Domestic, Agricultural & Commercial Fencing
Based in Bradley, Ashbourne, I carry out fencing work to the highest standards for domestic, agricultural and commercial clients in Derbyshire.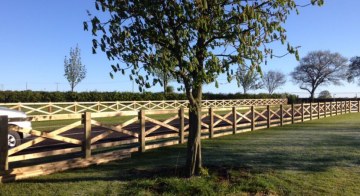 I have been trading for over ten years and carry out fencing work mainly within 15 miles of Ashbourne.
I have many more photographs of my work than those appearing here. Projects include:
Boundary fencing
Stiles & gates
Equestrian paddocks
Equestrian netting
Menages
Pig pens
Stock enclosures
Installing sheep netting
All types of sheep fencing
Hedge laying
We are a small firm, committed to customer service and satisfaction. You will find our fencing rates are competitive because we use our own machinery and tools and rarely have to hire in expensive equipment.
We are happy to either provide all materials required or use materials supplied by the customer. I always like to try to match materials with the surroundings, ensuring the new work is in keeping with the rest of the site.
If you would like to talk about your fencing project or request a quotation, please call me on 01335 372 068 or mobile 07745 288 011.
© Copyright Andrew Etherington, 2018